Version 1.5.10 of Raven Tracker is now available. Improved Furlough functionality returns in this release! Furlough claims are now automatically calculated for Sage Payroll Template export files, and there is a new Furlough Claim Sheet which provides more information on how the claim was calculated.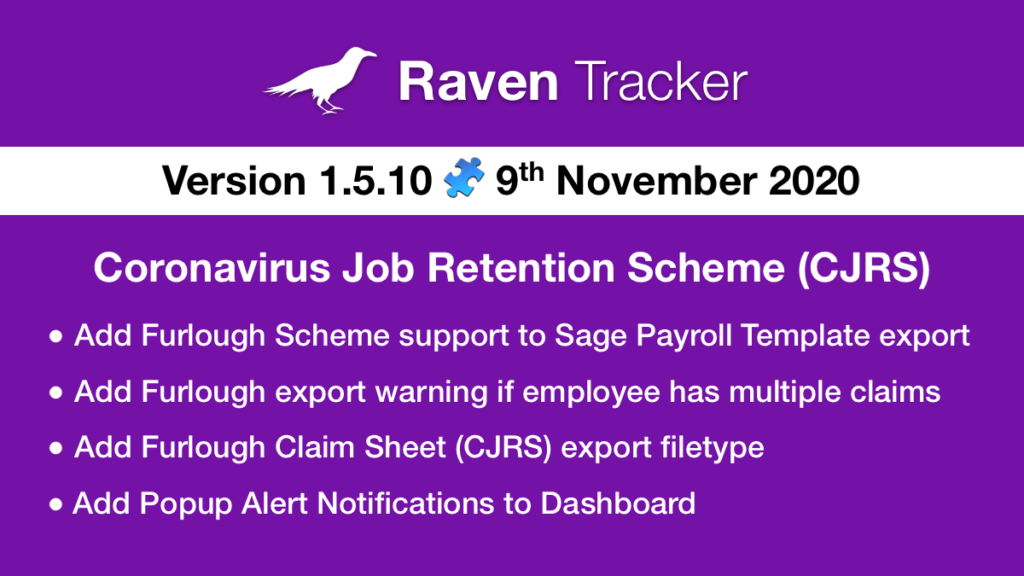 Notable Changes
Add Furlough Scheme support to Sage Payroll Template export
Add Furlough export warning if employee has multiple claims
Add Furlough Claim Sheet (CJRS) export filetype
Add Furlough Payment Details on Employee page
Use Employee Furlough payment to init wage sheet from template
Remove Employee JSS Payment Details on Employee page
Disable Wage Sheet JSS Claim Sheet export filetype
Add Popup Alert Notifications to Dashboard
Miscellaneous framework updates
Coronavirus Job Retention Scheme (CJRS) Returns
The Coronavirus Job Retention Scheme (aka Furlough) has been extended with employees receiving 80% of their current salary for hours not worked, up to a maximum of £2,500 a month. For more details on the Furlough Scheme, please see the Government services and information website.
The Job Support Scheme (JSS) has therefore been removed from Raven Tracker, while integrating its best features into the returning Furlough Scheme support.
Wage Sheets
For clients, the Furlough Staff table is back on the wage sheet, where eligible employees enrolled on Furlough are entered along with their average working hours and average pay rate (please correspond with your accountants to correctly calculate these values). These employees are then also added to their respective category tables as usual with their actual hours worked.
Wage Template
To simplify the above process, clients can enter all staff enrolled on Furlough into the new Furlough Staff table on the wage template. This table also requires their average working hours, but their pay rate is entered directly on their employee record.
Now, whenever a new wage sheet is created, the Furlough Staff table will be automatically populated with the wage template data, with the employee pay rate coming directly from the employee record.
The last releases added a new checkbox toggle on each wage template line. This is used to enable or disable individual wage template lines. Only active wage template lines are used to initialise new wage sheets. This means employees can be temporarily disabled and reenabled with a single click!
Furlough Claim Sheet (CJRS) and Sage Payroll
For accountants, Raven Tracker now automatically calculates CJRS claims for all employees on hourly pay. CJRS claims are added to the Sage Payroll Template using a dedicated Sage Payroll Payment Reference.
There is also a new Furlough Claim Sheet (CJRS) export filetype available when exporting wage sheets. This is similar to the Sage Payroll Template export file, but adds many additional columns making it easier to verify Furlough calculations.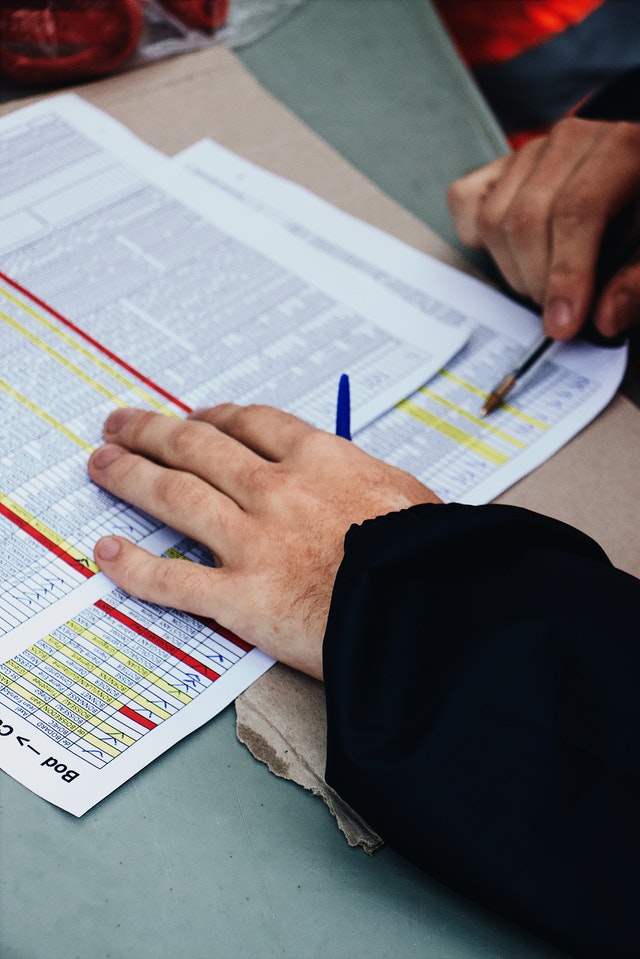 Conclusion
For more information on Raven Tracker and online accountancy services, please contact PLS Management Services on 020 8977 6255.
For all other enquiries, please send us a message.