Version 1.5.5 of Raven Tracker is now available. This release adds the bulk export of wage sheets to aid accountants in processing furloughed employees working on a part time basis.
There is a new Pub Bookkeeper user role with limited Accountant privileges. JAT pubs have a new Cash Sheet line to account for the new 5% rate of VAT, plus many more fixes and improvements.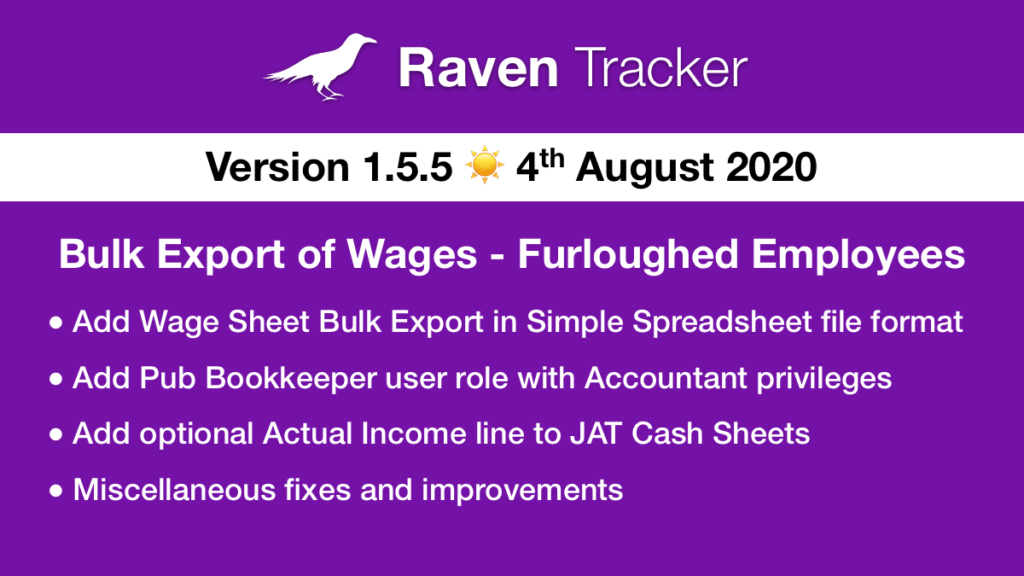 Notable Changes
Add optional Actual Income line to JAT Cash Sheets
Add Pub Bookkeeper User Role with limited Accountant privileges
Add Wage Sheet Bulk Export as Simple Spreadsheet to advanced search
Add Read/Write Wage Sheet Template permissions to Pub Assistant
Set week start of monthly calendar based on Site settings
Remove week numbers from monthly calendar view
Remove Pub Franchisee User Role
Update miscellaneous User Role Permissions
Fix rare Cash Sheet Next Day Banked Total sync issue
Fix Purchase Clear line code in Cash Sheet Daily Journal Export
Numerous minor fixes and improvements
Wage Sheet Bulk Export
The Government's Coronavirus Job Retention Scheme (CJRS) has changed to allow more flexibility. This means businesses can bring furloughed employees back to work on a part time basis.
This has resulted in more complex payrolls for accountants. Raven now allows accountants to bulk export past wage sheets over a given time period using the advanced search facility. The exported wage sheets are saved in a single file using the Simple Spreadsheet filetype.
The Simple Spreadsheet filetype retains all the detailed information seen on screen in the Wage Sheet itself, and is ideal for opening in standard spreadsheet applications for further analysis.
Actual Income on JAT Cash Sheets
The Government recently introduced a temporary 5% reduced rate of VAT to certain supplies. Our regular cash sheets handled this immediately with new dedicated lines on the Sales Income table. The till system provided by Star Pubs & Bars processes this internally, so we have introduced a new Actual Income line which can be entered from the till report.
Just Add Talent (JAT) is an agreement option offered by Star Pubs & Bars (HEINEKEN UK) to kick-start a pub business at a fraction of the start-up cost of taking on a leased or freehold premises.
New Pub Bookkeeper User Role
A user role defines a set of privileges or permissions for users to perform a group of tasks. This release introduces a new Pub Bookkeeper user role. This user has the same permissions as a pub owner, but can also perform certain accountant level operations, such as unlocking a submitted cash sheet.
The Pub Bookkeeper role is useful for larger multisite pub organisations with onsite bookkeeper's who verify the data submitted by pub managers.
Wage Sheet Template Permissions
The Pub Assistant user role now has read write access to the wage sheet template. Like the pub supervisor, this allows pub assistants to add employees to the wage sheet template and complete their hours worked. Pub assistants do not have access to any weekly wage sheets or employee records, so they cannot see anything related to pay.
When the pub manager creates a new wage sheet, the names and hours are automatically filled from the wage sheet template. Now all the manager needs to do is double check the hours and payment details, and then submit the wage sheet for the accountants to process.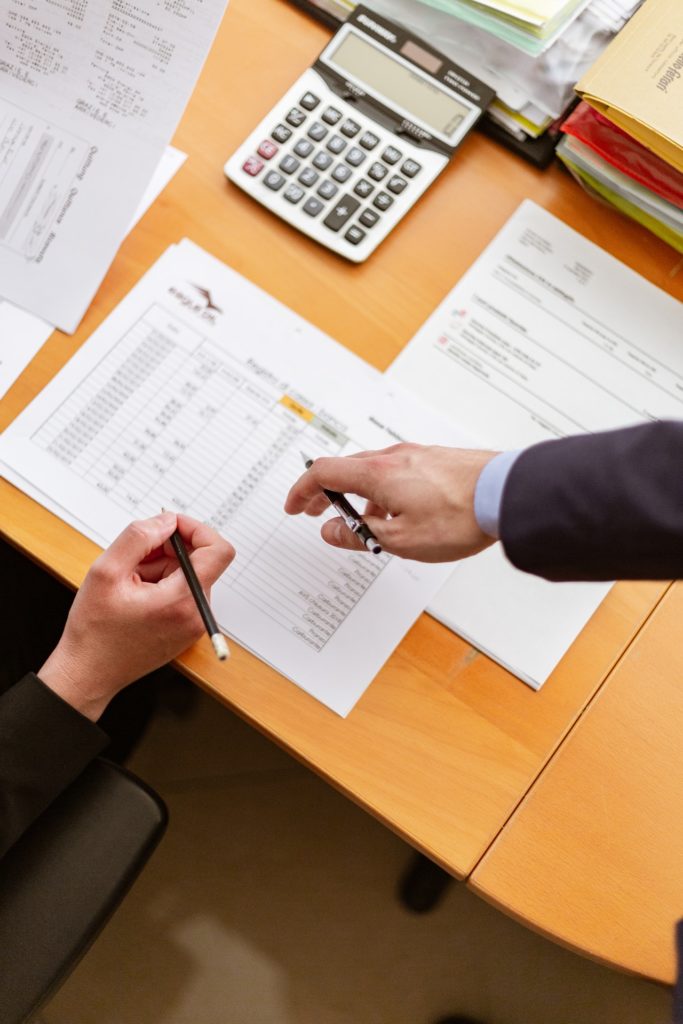 Conclusion
For more information on Raven Tracker and online accountancy services, please contact PLS Management Services on 020 8977 6255.
For all other enquiries, please send us a message.